Electric Citroen cars shown to the world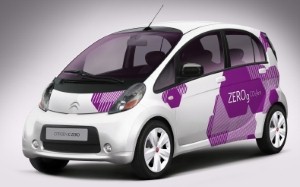 Posted by Sebastian Turkenburg

French manufacturer Citroen has showcased its latest electric vehicle technology to the world on the Champs Elysees in Paris.

During its award-winning C_42 event, Citroen unveiled its C-Zero full electric production model, which is the company's first developed plug-in city car and is scheduled for UK launch later this year.

The manufacturer also exhibited the Survolt all-electric concept car, which was premiered at the Geneva auto show earlier this year and offers drivers hope of the future production of environmentally-friendly sports cars.

Four of Citroen's current carbon-friendly vehicles are also on display at C_42 - the DS3, the new C3, the C3 Picasso and the C5; all of which emit less than 130g/km of carbon dioxide.

Guests of the event were also able to view educational videos about the environmental impact of cars and experience eco-driving on the Ecogotchi simulator.

Earlier this month, Citroen revealed that Brits planning on purchasing a new car could benefit from greater fuel efficiency and lower CO2 emissions if they purchase the company's new range of C5s.