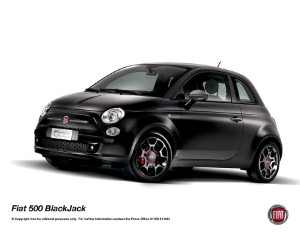 A new limited edition version of the Fiat 500 has been created and is now fully dressed in black.

Following on from the successful Fiat 500 Pink edition, the new BlackJack model has been created to offer new car buyers something special.

The special edition motor is being limited to just 200 units, all of which are finished in a matt black paint, giving the car a "mysterious" feel, Fiat claims.

Elena Bernardelli, marketing director at Fiat Group Automobiles UK and Ireland, said: "The paint finish is the most striking feature of this new limited edition ... [it] gives the Fiat 500 a stunning new image."

She added that the matt effect black finish has previously been seen on new supercars.

Other features on the limited edition model include 16-inch alloy wheels in matt black with a red coach line and, on the 1.4 version, red brake callipers.

Fiat's eco-friendly Start&Stop engine technology is also fitted on the new model.