Ford boasts the virtues of new Transit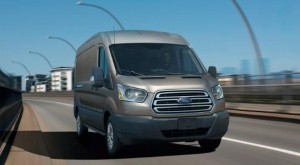 Ahead of the early 2014 release of the new Ford Transit, the manufacturer has been lauding the benefits of the latest version of the historically popular and reliable model.

A friend to commercial drivers nationwide, the Transit has been the go-to vehicle for those with a need for a high-carrying ability and space.

The 2014 edition comes with an increased loading capacity of 11 per cent over the outgoing model, while Ford says it has even better durability than any of its predecessors. Furthermore, it has class-leading side door-width and rear step height.

Ford has also claimed the cost of maintenance will be reduced for these models, making it an excellent choice for businesses that use the Transit heavily.

Paul Randle, vehicle line director for Ford of Europe's commercial vehicles, said: "Ford's flagship Transit model is once again setting the standard in its class by cutting running costs, shifting bigger loads and pioneering valuable new technologies."

He also praised the vast model choice and the customary toughness that makes the Transit such a legendary van.

The eco-version comes with best-in-class efficiency, with CO2 emissions limited to 169g/km, helping to deliver 44mpg.

While extending the capacity and increasing the strength of the Transit, Ford has also made sure the driver can get from A to B in much more comfort.

Those behind the wheel can benefit from increased shoulder room, head clearance and visibility, a more comfortable driving position and an adjustable steering column.

It also includes a range of technologies to benefit the driver, such as adaptive cruise control, lane keep alert, a rear view camera with trailer hitch assist and tyre pressure monitoring.

Ford SYNC technology is also included as standard, not only allowing the driver to use their favourite smartphone apps with voice activation, but helping in the event emergency assistance is needed.