Ford Fiesta receives a facelift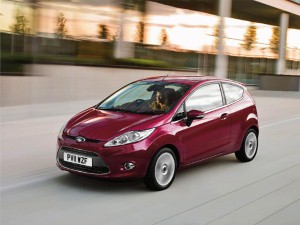 A number of changes have been announced for the 2012 Ford Fiesta, with the new vehicle being shown in all of its glory at the Paris Motor Show.

One glimpse at the reworked Fiesta and car lovers are bound to spot that the supermini has been given a substantial facelift.

A trapezoidal front grille now sits at the front of the vehicle and it is designed with sports LED running lights and a more heavily contoured bonnet than previous models.

Lift up this reworked bonnet and drivers will also notice that the new Fiesta is packing an Ecoboost engine.

A previous winner of the Engine of the Year accolade, the motor comes in the shape of a three-cylinder turbocharged unit and can achieve an impressive 56.5mpg.

Technology is another standout feature of the remodelled Fiesta, with many options sure to make a driving experience even more of a thrill.

For one, there is a new Ford SYNC interface that enables drivers to hook up devices to their car and then select music or answer phone calls through their vehicle's dashboard.

What's more, mobile phones and music devices can be connected to the interface either by a USB lead or, where applicable, simply through Bluetooth connections.

Parents hoping to share their new Fiesta with their children may also want to get used to Ford's innovative 'MyKey' technology.

The strategy, which is already proving a hit across the Atlantic, enables drivers to programme car keys so that the car can only travel up to a preset speed limit.

A maximum volume for the Fiesta's in-car stereo system can also be set through the 'MyKey' feature, as can the ability to disable the option of switching off driver aids.

This is not the only safety element to be introduced to the reworked 2012 Ford Fiesta though.

With the aid of an active city braking system, the car has the ability to foresee a low-speed collision - should a driver be distracted – bringing the vehicle to a safe standstill.

The 2012 Ford Fiesta facelift will be shown off at the Paris Motor Show later this month, before being introduced to UK showrooms shortly after.