Ford Focus EcoBoost now at 99g/km CO2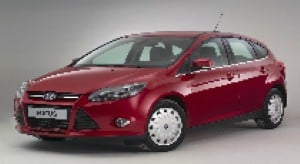 The latest Focus model from Ford, the new Focus 1.0-litre EcoBoost, will be the brand's most fuel-efficient family petrol car when it goes on sale in the UK, in early 2014.

With a combined fuel economy figure of 67.5mpg and a CO2 output figure of 99g/km, it is very likely that this most frugal of Focus models will be of great interest to families on a budget that prefer the driving feel of petrol engines.

The new Ford Focus EcoBoost – with ECOnetic Technology that includes ultra-low rolling resistance tyres, unique aerodynamics under the car and revised gearbox gearing – is powered by the brand's award-winning, 1.0-litre EcoBoost with just under 100bhp at its disposal , but with extra, special engine calibration to help achieve that golden sub-100g/km CO2 figure.

This lowly CO2 output means that the new Ford Focus EcoBoost will be exempt from Vehicle Excise Duty (road tax), as well as the London Congestion Charge, making it an even greater boon for inner city families with an eye on green issues.