Ford to release Focus Sport in 2011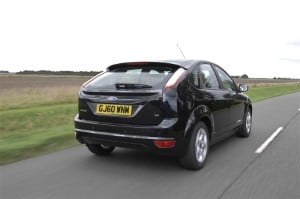 The new special edition Ford Focus combines a sporty design with a range of features.

Ideal for motorists in the search of a new '60' plate vehicle, the model is available with a 1.6-litre 100PS petrol or 109PS diesel engine and is "a great-to-drive all-rounder".

The Ford Focus Sport includes satellite navigation, Bluetooth, USB, voice control and rear parking sensors as standard, while it also boasts titanium-level seat fabric.

Fans of sporty cars could be enticed by the model due to its 16-inch ST-style alloy wheels and auto headlamps.

The petrol and diesel versions will be available at £16,545 and £17,845 respectively in spring 2011, the manufacturer notes.

David Calder, product manager at Ford of Britain, said: "This is a vehicle that should appeal to our retail and fleet customers alike and will continue to be offered alongside the all-new Focus through 2011."

He added that the car is "a stylish and practical package".

In other news, Ford will release five hybrid electric vehicles in Europe in 2013, including the five-seat C-MAX compact.