New Ford Focus testing underway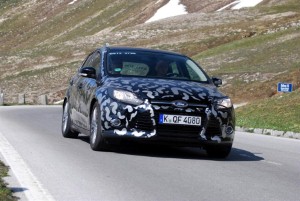 Posted by Louise Clark

Test teams have been trialling the all-new Ford Focus and its temperature control systems in extreme environments.

Aiming to test the new car's electronic automatic temperature control (EATC), the teams have taken it to Antequera in southern Spain, where it regularly reaches 40 degrees Celsius.

The system has been built with quiet fans that circulate cool air in hot environments and warm up the car in cold surroundings.

Aiming to refine the temperature control, teams have been testing a four-door American model and a five-door European model using over 200 heat sensors.

Ford systems engineer Klaus Schuermanns said: "The vehicles are soaked in the sun until the temperature in the cabin reaches about 60 degrees Celsius. Then we drive and see how long it takes to get back down to the chosen comfort point."

The company expects the next-generation Ford Focus to go on sale in early 2011.

In other news, Ford announced last week (August 27th) that the first UK press unit of its Focus RS500 would join other limited edition models in its heritage collection in Dagenham.