Images released of Citroen's C4 Picasso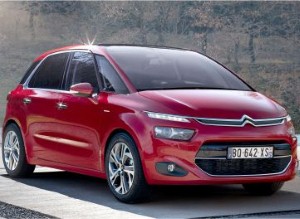 The first images of Citroen's C4 Picasso have been released, showing an attractive yet technologically impressive vehicle.

As well as boasting bold, expressive design, complete with dynamic lines, hi-tech headlights and LED 3D effect rear lights, nothing has been compromised within the car.

It comes with a loft-style, bright and spacious cabin as well as plush Relax seats, enabling a first-class travelling experience for all the family.

When it comes to the technical stuff, the car has plenty of creative technologies such as a full touch driving interface, 12-inch HD panoramic screen, 360 VISION, PARK ASSIST, active cruise control, active seatbelts and also an ultrasonic blind spot monitoring system.

The firm claims that the Technospace MPV is "a true expression of CitroŽn's 'Creative Technologie'".

"Beyond useful everyday functions such as key less entry and start-up, motorised tailgate and reversing camera, New C4 Picasso features a range of innovations making driving easier and more enjoyable," it added.