Iveco shows fleet success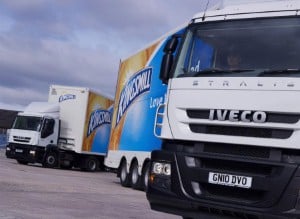 Commercial vehicle producer Iveco has confirmed that it is to supply more than 100 units to Allied Bakeries, for use on a wide range of different delivery routes.

The fleet engineer at Allied Bakeries, Chris Davies, said that the company has been impressed by the performance of the Iveco units in bought in 2009, and the new Stralis performed well when trialled against similar vehicles from other manufacturers.

"The Stralis demonstrator performed well and the commercial mathematics worked out in favour of Iveco," he said, adding that the strong eco performance of the units helps to make the fleet yet more environmentally friendly.

It is expected that the new units will remain on the fleet for more than a decade - showing the reliability expected from the new commercial vehicles.

Engines in the vehicles meet the stringent Enhanced Environmentally Friendly Vehicle standards, making them more eco-friendly than the Euro 5 requirements.