New Renault coupe-cabriolet available from July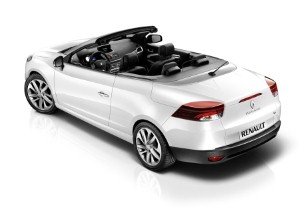 Posted by Craig Salter

Vehicle manufacturer Renault has announced the final addition to its new Megane range.

The firm has said its refreshed vehicle line-up has been completed with the launch of the new Renault Megane coupe-cabriolet, which is entering the market just in time for summer.

According to the manufacturer, the model boasts striking looks and a stylish panoramic sunroof, along with various luxury elements. The sunroof has been designed to maximise the feeling of freedom associated with drop-top vehicles.

Among its features are a 3D sound system, automatic parking rake, hands-free engine start and hands-free locking of the doors and glovebox and automatic dual-zone climate control.

The model will be available to buy from July with a choice of three petrol and three diesel engines, many of which use turbocharger technology.

Meanwhile, Renault also recently revealed its sporting new versions of the Megane - the GT and GT Line.