New Vauxhall Meriva 'to offer class-leading convenience'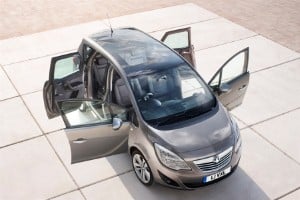 Posted by Sebastian Turkenburg

The latest Meriva vehicle from Vauxhall is set to offer class-leading occupant access and convenience, the firm has claimed.

Set to enter UK showrooms from June 18th, the new Vauxhall will offer unrivalled space as a result of its unique FlexDoors, which are rear hinged and swing open towards the back of the car at a 90 degree angle.

The new model is also set to feature reworked design, influenced by the Insignia and Astra vehicles and will be fitted with a range of five engines.

Vauxhall has modified the car to include a longer wheelbase, which enhances the vehicle's practicality for families with young children, moving its Meriva into the five-seat compact multi-purpose vehicle class, where it will compete with rivals such as the Ford C-Max, Renault Scenic and Citroen C4 Picasso.

In related news, the firm has also launched a new Vauxhall in the form of 500 Astra VXR Arctic Editions.