Nissan Leaf 'first sensible-sized electric car at a sensible price'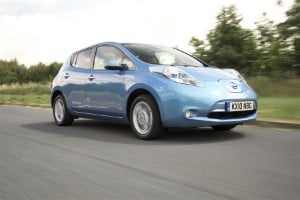 The Nissan Leaf is the first sensible-sized electric car for a sensible price, it has been claimed.

According to Honest John, the model could shape the future of motoring due to its affordability and competitive functionality.

The reviewer stated that there is "no hint" that the car is electric on first impression, while it is also responsive and fun to drive.

"It could very well just be a standard hatchback. And that's the point. The Leaf is a groundbreaking car that doesn't need fuel and has zero road tax, so running costs are minimal," the website stated.

It can be charged to 80 per cent of its full capacity in around 30 minutes and has a range of 100 miles.

Meanwhile, an advanced IT system offers battery information and locates nearby charging stations.

A mobile phone can also be used to set charging functions and trigger the air conditioning, the reviewer commented.

The Nissan Leaf was recently named Car of the Year 2011, beating off competition from the Alfa Romeo Giulietta and the Vauxhall Meriva.