Nissan Leaf wins five-star safety rating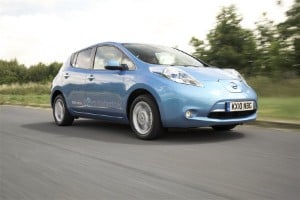 The all-electric Nissan Leaf has achieved the highest five-star safety rating from the European New Car Assessment Programme (Euro NCAP).

Having undergone stringent crash testing, the model was given 89 per cent for adult safety, 83 per cent for child protection and 84 per cent for its on-board safety assist systems.

The Leaf is the first ever electric vehicle to reach a five-star rating from Euro NCAP, also attaining a higher-than-average 65 per cent for pedestrian safety thanks to its low nose design.

Jerry Hardcastle, Nissan vice-president of vehicle design and development, said the manufacturer is not surprised by the results, observing that the Leaf "has gone through more tests than any car we have ever produced".

"On top of the conventional offset barrier and side impact tests, we have tested the electrical system in every way to ensure it can never be overcharged and that the isolation programme works as intended in a crash.

The Nissan Leaf recently won the Environmental Award at the 2011 Fleet World Honours.