Searing SEAT Leon Cup Racer to attack Goodwood hill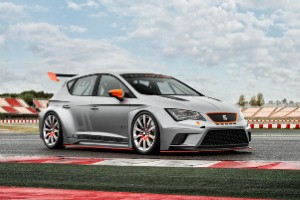 SEAT are really going for it with the UK debut of their new Leon Cup Racer. Instead of simply showing the wide 'n' wild new circuit car on their show stand at the Goodwood Festival of Speed next week, they'll be running it hard up the treacherous hill as a big-bhp treat for the watching crowds. What better way to demonstrate that your brand is all about the thrill of driving.

The new Leon Cup Racer's styling speaks for itself - so wide and so aggressive. Sure, it's built for the track so all of this extra-fat aero-aggression is purely functional, but it's a functional expression to set the pulse racing, without even firing the engine.

The silver and orange stunner of a race car was designed and developed by SEAT Sport to remind motorsport customers of the company's commitment and heritage to and in motorsport. Let's not forget that SEAT know what they're doing when it comes to quick track cars, having won back-to-back driver and manufacturer titles in the FIA World Touring Car Championships in 2008 and 2009. In fact, if you take al ook around private track days and weekend race series in the UK you'll see plenty of ex-works SEAT Leon racers still setting fast lap time.

And this new Leon Cup Racer looks like it can handle a tight apex or two and should set a blistering time up the Goodwood hill. It's atmosphere-slicing beauty alone is surely worth an extra second or two!