SEAT Leon Ecomotive becomes top environment performer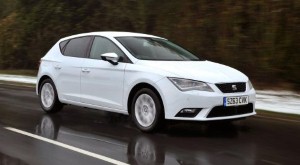 SEAT is now taking orders for its brand new Leon Ecomotive and the manufacturer has already started to boast about its environmental performance.

The Leon is supposed to be SEAT's best vehicle yet when it comes to carbon efficiency, emitting as few as 87 grams of CO2 per kilometre.

It was first unveiled at the Frankfurt Motor Show in September and the car is available in three different body stylings - the SC, five-door and ST.

The overall efficiency of the vehicle is enough to put it into the bracket that means it is exempt from road tax charges.

Its performance is so impressive that it is a total of 12g/km more efficient than the previous model. The design features of the new Leon have helped to achieve this improvement, with 90kg of weight cut and aerodynamic efficiency improved by ten per cent.

Steve Mirfin, SEAT UK's Leon product manager, said: "This Leon Ecomotive really moves the game forward for us. Not only is it a lot more efficient than the outgoing car, it's one of the most efficient medium-sized cars on the market and offers outstanding fuel economy."