SKODA unveil production model of VisionS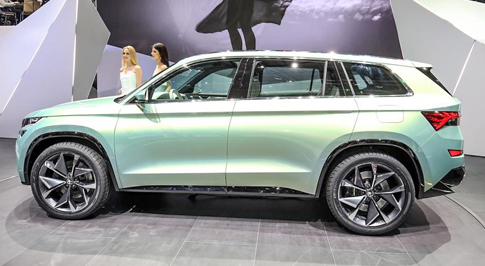 After initially reviewing at last month's Geneva Motor Show, SKODA has released the production version of it's VisionS concept. The crossover, which is likely to be named Skoda Kodiaq, will debut in parts of Europe and Asia this autumn, before it's 2018 UK release.
A 5 and 7 seater crossover, the Kodiaq is being touted as a roomier ad more "sophisticated" alternative to the SKODA Yeti. Initial industry test drives of the model have revealed that it can get up to 62mph in 7.4 seconds, with Co2 emissions of 45g/km.
Whilst SKODA is committed to offering plug in hybrid technology by 2019, it's likely that initially available commercial models of the Kodiaq will be come in more conventional fuel options. Initial sources say that the Kodiaq could retail for around £23,000, which is considerably more affordable than similar competitors. However, as this is still to be confirmed, we'll have to wait till 2018 to find out the exact details.