Vauxhall Art Car Boot Fair to hit Folkestone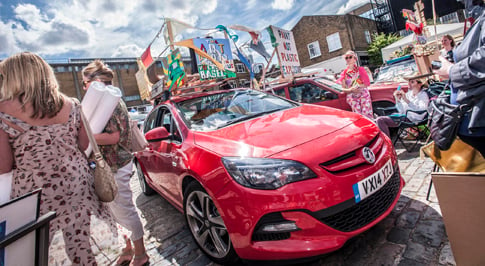 Vauxhall is taking its fun and zany art fair to Folkestone for the first time later this month.
The Vauxhall Art Car Boot Fair famed for being the day the art world lets its hair down will be there on Saturday 30th August to form part of the opening weekend of international arts extravaganza the Folkestone Triennial, taking with it the Vauxhall Art Cargo. This customized Vivaro van will be packed with art to buy as well as the materials for people to make it too.
Not only that but the Go Forth Plinth will also be displaying commissioned work by artists Gavin Turk, Nina Saunders, Daniel Chadwick and Julia Vogl on the roof-racks of a fleet of four Vauxhall cars.
Tracey Emin will be among the renowned artists at Folkestone, where she will be creating exclusive limited-edition embroidered artworks plus sculptures and posters.
The Art Car Boot Fair began in Brighton in 2003 and was then held in London, having been sponsored from the off by Vauxhall. This year it was decided to take it "on tour", and after the London event in June it travelled to Liverpool last month.
Karen Ashton, Vauxhall Art Car Boot Fair's Founder and Curator, said: "Having established the Vauxhall Art Car Boot Fair as a dynamic and thrilling art marketplace as well as a thoroughly entertaining afternoon for all our art-loving visitors in London, it made perfect sense to take our show on the road to engage with new audiences and new artists around the country and we are delighted to be embraced by the Folkestone Triennial."
Denis Chick, Director of Communications at Vauxhall Motors, said: "We were keen to develop the event for 2014, and by taking the Vauxhall Art Car Boot Fair on to the road, even more art, entertainment, fun and British madness can roam the country."
The Folkestone Fair takes place from midday to 4pm at the harbour. For more details, visit www.artcarbootfair.com or follow @artcarbootfair and @vauxhall on Twitter for updates on artists, activities and exclusive pieces on offer.
by: Danielle Bagnall