Vauxhall previews Corsa VXR Nurburgring Edition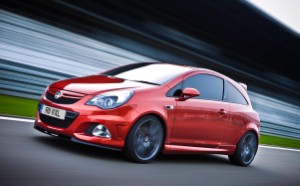 The first images of the most powerful Vauxhall Corsa ever have been released by the manufacturer.

According to Vauxhall, the all-new Corsa VXR Nurburgring Edition raises the bar in the hot hatch sector due to its stunning performance and impressive dynamics.

The model is built around a 1.6-litre turbocharged engine capable of producing 205PS at 5,750rpm, on top of up to 280Nm of torque.

It has the ability to run on 98-octane fuel and also boasts a modified engine management and turbocharger system.

According to the company, however, "the icing on the cake" is the VXR's race-inspired chassis, which offers a low ride for a high degree of driver control.

"With performance of 0-60mph in just 6.5 seconds and a top speed of 143mph, the Corsa Nurburgring will deliver all the driving thrills you'd expect from a car wearing the legendary track's name," Vauxhall noted.

The model is expected to go on sale in late May.

Vauxhall is poised to roll out Start/Stop technology to the majority of its models by the end of 2011, enabling motorists to make savings by improving their fuel efficiency.