2011 Renault Espace details revealed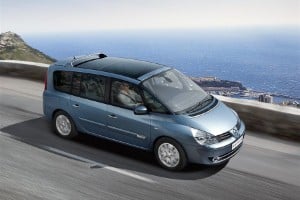 A new range of features is set to be included on the latest edition of the Renault Espace.

The 2011 model of the classic people carrier benefits from a subtle facelift and now include a range of features such as LED lights and satellite navigation.

Renault has taken steps to improve the efficiency of the car's engine and has succeeded in reducing carbon dioxide emissions from the 2.0dCi engine to 170g per km, a full 18g per km drop on the previous version.

The new cars are set to hit the showrooms in January 2011, but Renault has confirmed that it is possible to order the model from November 8th this year.

Optional extras on the car include an electric panoramic glass sunroof that has a surface area of 2.46 sq m, giving passengers plenty to see.

Screens on which to view DVDs can also be integrated in to the rear of the front headrests, which may help to keep kids entertained on long car journeys.

Late last month, the firm revealed details of the 2011 Laguna range; certain models in this line-up feature four-wheel steering.