Bristol Street dealer kicks in to action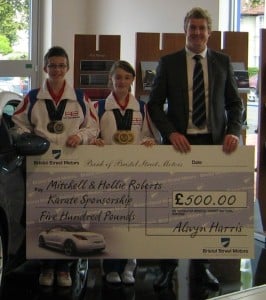 The Oxford Bristol Street Motors Peugeot dealership has helped two youngsters get on the road to success after it sponsored them to head to Brazil for the WUKF World Karate Championship.

Brother and sister Mitchell and Hollie Roberts walked away from the event with numerous medals for both individual and team events.

And sponsorship stretching to some £500 from Bristol Street Motors Peugeot in Oxford helped the pair on their journey to Brazil for the international event.

Dealership manager Alwyn Harris said in an announcement in local newspaper the Oxford Mail: "We are delighted to support Mitchell and Hollie, as the money will help them achieve their goal. They are two local kids who have achieved so much in their field and deserve the chance to compete on the world stage."

The announcement added that the chance for sponsorship came about after the children's father, David Roberts, called in at the dealership to order the latest award-winning Peugeot RCZ coupe.

Earlier this month, the manufacturer noted that orders for the car exceeded half the country's 2010 production allocation within five weeks of its launch.