Ford Fiesta S1600 receives update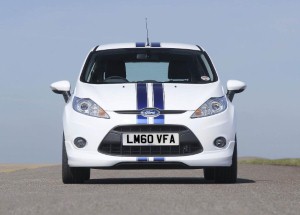 Motorists looking for a powerful new car could take stock of the latest Ford Fiesta S1600.

The new model features a 1.6-litre Duratec Ti-VCT petrol engine and can hit 60mph in just over eight seconds.

Boasting 134PS at 6,700rpm and 160Nm of torque at 4,250rpm, the car is based on the three-door Ford Fiesta Zetec-S and boasts a sporty body kit with low front bumper and extended side skirts.

Drivers might also be attracted to the new Ford Fiesta S1600 due to its heated seats, leather steering wheel and 17-inch white alloy wheels.

Andrew Paton, Fiesta product manager, said the S1600 would interest "driving enthusiasts".

"The previous S1600 was rapidly sold out, which shows how much fun these affordable new Fiesta models are, and now with more power and performance these latest versions are set to be an even greater hit," Mr Paton stated.

Ford is celebrating its centenary year in 2011.