Hyundai prepares i40 for 2011 release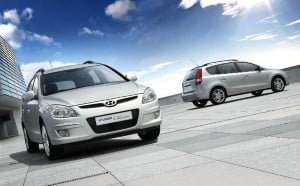 Hyundai has revealed a new model set to be released in Europe in 2011.

The Hyundai i40 will make its debut at the Geneva Motor Show in March and is the manufacturer's first D-segment model to be specifically developed for the European market.

According to the company, the car combines practicality, performance, efficiency and style, and will include a five-year unlimited mileage warranty.

Initially available in estate form, the model will also be shipped as a saloon later in the year.

"We expect the quality of the new i40 to continue the development of our image in Europe and attract new customers to the Hyundai brand," said Allan Rushforth, vice-president of Hyundai in Europe.

He added that the new model is "a car that encapsulates what European motorists look for in a D-segment vehicle".

The i40 will include the latest environmental technologies developed through the firm's Blue Drive programme, while also offering good fuel economy and "very low" CO2 emissions.

Hyundai recently released its new ix20 range, now available in classic, active and style trim levels.