Hyundai releases new i40 photos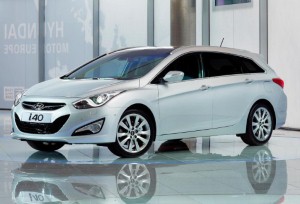 Hyundai has released the first images of its all-new i40 model ahead of its premiere at the Geneva Motor Show next month.

The debuting model is the company's first D-segment vehicle to be developed specifically for the European market, with estate and saloon versions set to be made available to motorists in the UK by the end of 2011.

Designed in Germany, the car takes inspiration from the manufacturer's new 'fluidic sculpture' design language but maintains its signature hexagonal grille.

Drivers will have a choice of a number of powertrains, including a 1.7-litre diesel engine which emits just 113g/km of CO2 - a best-in-class figure.

Allan Rushforth, senior vice-president of Hyundai, commented: "The i40 is a perfect example of how we are offering the best and making it accessible to everyone. From stunning design and specification, to industry-leading technology and aftersales care, the i40 sets itself apart from its competitors."

Hyundai will also showcase its new three-door Veloster coupe at the Geneva Motor Show, which begins on March 3rd.