Peugeot launches limited edition 3008 Hybrid4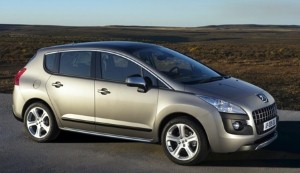 Peugeot is now taking orders for customers interested in buying the world's first full diesel hybrid car.

The first Peugeot 3008 HYbrid4 models will be part of a limited edition of just 300 vehicles, 35 of which will be available for purchase in the UK.

Featuring a fuel efficient two-litre HDi 163 bhp diesel engine and a 37bhp electric motor, the car offers out-of-town fuel efficiency of 74.4mpg and emits just 99g/km of CO2 on its combined drive cycle.

The motor has a maximum power output of 200bhp, as well as boasting an all-wheel drive function and reduced running costs.

"By choosing the limited edition Peugeot 3008 HYbrid4 owners will benefit from being the first with this unique driving experience with an enhanced specification," the manufacturer stated.

The model also includes dark tinted headlamps and a pearl white exterior.

Meanwhile, the Geneva Motor Show sees Peugeot showcasing a number of its new and upcoming models, including the all-new 308 and fully electric iOn range.