SEAT experiments with 'fingerprint parking'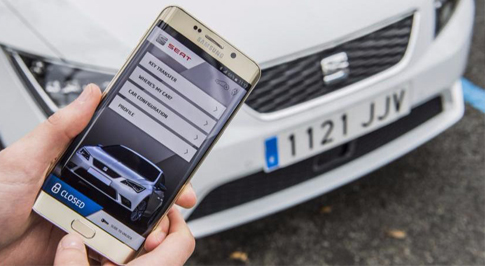 A new partnership between Spanish car manufacturer SEAT, Samsung, and software company SAP has meant that it may soon be possible to reserve and pay for a parking space before you even set foot in your car.
The process begins with GPS enabling you to find an available parking space prior to setting off, and then pay for it with your smartphone's fingerprint scanner. But the innovation doesn't stop there. Combining the Korean company's 'Samsung Pay' technology with Seat's smartphone app, users can select the space they want, and follow directions to the spot. Car park barriers will lift automatically upon your arrival, allowing you to cruise through unfettered. Seat have also been experimenting with the idea of adding a fingerprint scanner in their cars' on board computers.
SEAT have been testing a variety of potential advances in car technology recently, including 'digital keys' for cars, allowing drivers to unlock their vehicles via their phones. Users can even authorise others to have access to drive their cars for set periods of time. Impressive stuff.